It's been a little while since I've posted. I had gotten bogged down in making lots for design teams and had forgotten why I liked crafting in the first place. I've also got behind in a few swaps. I have made something for a swap (finally caught up) and need to post it asap.
I have also given my blog a bit of a face lift. I hope you like it.
I have recently gotten my mojo back and am looking forward to posting a bit more often.
I have recently gotten into needle felting. My good friends Kay and Sandra (you can find their blogs here and here) had been on a felting workshop and told me about it. I have since gone on one with them and am enjoying it very much. I thought I'd share with you a few things that I have made.
First I saw these on Pinterest. I knew that I had to make a few and I made them for the children I work at school. My friend Sandra wants one and I may make her one for Christmas this year.
Here is a close up of the reindeer.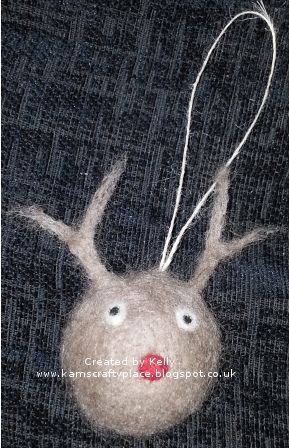 Next I saw these and knew I had to make them for a certain crafty spider.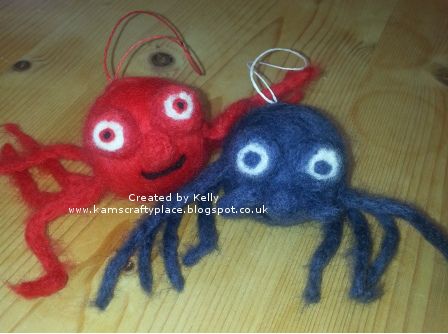 Lastly the workshop I went on was to make teddy bears. My daughter also came with me.
Here's a photo of all the teddies we made that day. See if you can guess which one is mine.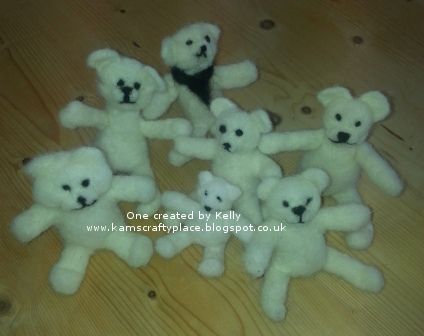 Mine is the one in the very middle
( there's a bear in front and behind it).
My daughter's is the one next to it on the left
Well I hope you've enjoyed looking at my felt creations as I said before I have been getting a lot of inspiration from Pinterest.
I'm off to go and colour as I've recently joined the Kit and Clowder site to hopefully improve my colouring.