Well what did you think of our first assignment yesterday for
Stamp N Craft
? I think we all did a fabulous job. All different takes on one stamp set. A job well done.
This week we will be using lots of different sets from the Chocolate Baroque range. I chose to work with the Damask Reindeer set. This set comprises of 12 / 13 stamps One stamp you could separate into two sentiments. You have three gorgeous Reindeer of different sizes and different patterns on their bodies. There's 5/ 6 sentiments, two snowflakes in two sizes, a star and a scene with trees, moon, reindeer and snowflakes on it.
This is a gorgeous stamp set and I'm about to show you what I made. I've made three cards. They are all on the Clean and Simple trend.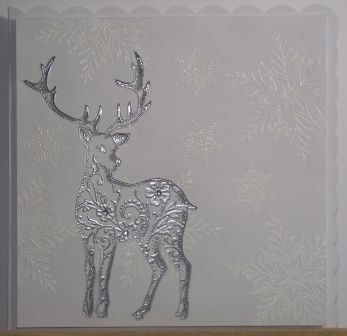 This card is a 6 x 6 square card. I stamped and embossed the deer twice. One piece of card I cut to 5 1/2 inches x 5 1/2 inches.I cut out the deer and I embossed the snowflakes all over it. The second image I stuck straight down onto the card. The tricky part is putting it together. I used foam squares to make the card with the image cut out standout from the image. Lining it up is the tricky part, if it's not lined up properly the image doesn't stand out and doesn't sit the cut out. I've put some gems on the deer to finish it off.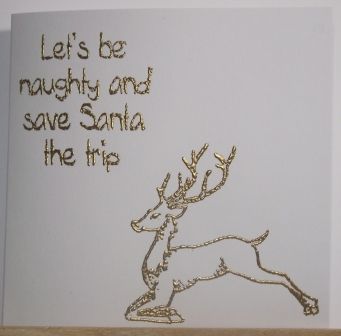 This is quite a quick card. It uses the 4 inches x 4 inches cards. I stamped directly onto the card and emboss it in gold. This is very quick and if you have a lot of cards to make this is quite versatile to use.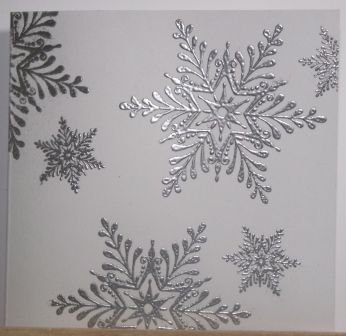 This one again uses the 4 x 4 inch card. I've stamped and embossed the snowflakes all over it. Another clean and simple card.
Can't wait to see what Angie makes. Angie is using a different Stamp set by Chocolate Baroque
Kelly