Well I've managed to keep up with all of the challenges so far at
Simply Challenged Challenges
and they have been challenges. It's been good for the Mojo though.
Day 10's challenge was to take a non Halloween stamp and turn it into a favourite Movie ghoul, ghost, witch or scary persona.
It took me a little while to think of my character. In the end I chose to do Dr Jekyll from Dr Jekyll and Mr Hyde. I thought this image showed Dr Jekyll process of making his formula to turn him into Mr Hyde.
Here is my card.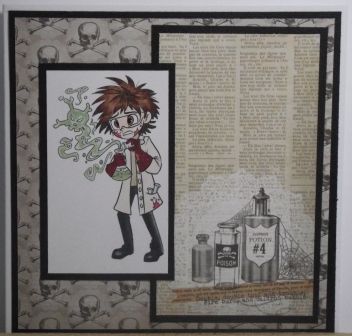 The papers are from My Mind's Eye Lost and Found Halloween stack.
I hope you liked this card.
I only have 3 more days left to complete, so check back over the weekend to see what I do for Day 11
Kelly x
Challenges I'm entering