Hi all,
Today at
The Crazy Challenge
we have a theme and it's Vintage. This week we are sponsored by
The stamping Boutique
We had some wonderful images from the Stamp Boutique and this image was one of my favourites. I tried to colour it in darker to add to the vintage feel of the paper. I coloured the seam binding with the same copic marker that was the closest colour that I had had to the Kraft card.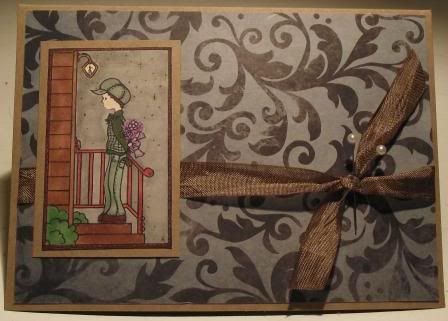 I hope you're enjoying my dt projects. I will be making bits that aren't dt related and will be posting them soon. If there's anything that you'd like to see as a tutorial or a technique you're unsure of leave me a comment and I'll see what I can do. I hope you like my new blog template. Purple is one of my favourite colours. It seems to calm my soul x
Kelly x