Hi all,
Today I'm taking part in The Bugbytes bloghop. The theme was Autumn or Halloween. If you've come straight here you need to start at
The Bugbytes
and follow the list. Here is my project a Halloween sign to go on my front door.
I used K&Co halloween paper on all three. I used Martha Stewart punch around the page for the spider web. For all the lettering on all three I printed the words out onto card and then cut them out. I went the edges in lack on the letting to cover the white card.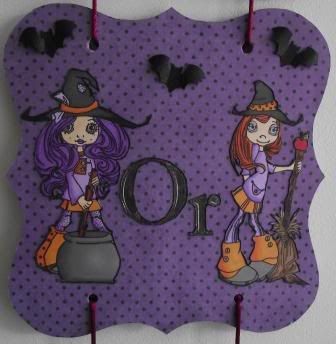 Here I used two stamps by Sugar Nellie. This is my first attempt at purpla and red hair. I'm quite pleased how they turned out. You can get these stamps at Funky Kits. Link is in my side bar.
I cut the bats and the house out using Martha Stewart punches. I added some glitter with my glitter pen.
I hope you enjoyed my Project. You now need to stop by
Debbie
and see her wonderful project.
Enjoy the bloghop. Don't forget to go back to The Bugbytes at the end as there's some wonderful candy.
Kelly x